All of the spare parts from Mains Power are Original from engine/alternator/controller/switch factory. We provide Genuine spare parts for our customers and endusers in order to ensure the generator running reliably and service longer life time.
Spare parts for engine: Cummins, Perkins, MTU, Mitsubshi, Yuchai, Jichai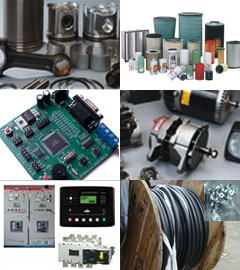 Engine parts:
Alternator parts (AVR)
Electrical parts (Control, wire, reply, gauge)
Breaker parts: ATS, ACB, Synchronising,
Installation part: Cable, lugs, connector, rubber
Filters: Air filters, Fuel filters, Oil filters
Bearings, valves, gaskets
Starter motor, Charger motor,
Water pump, fuel pump, Oil pump
Belt, crankshaft, connection rod
Nozzle, Piston, cooler
Speed Governor, AVR
Controller, Breaker Switcher etc.